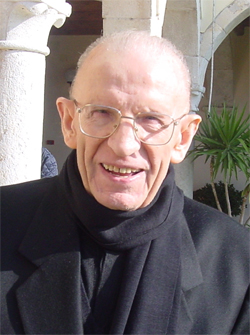 LUIGI DUSI (priest)
Born at Lonato (Brescia) – Italy on the 20th October 1919
Died in Verona on the 31st July 2006
Today, the 31st July 2006 at 2:30 p.m. Fr. Luigi Dusi of the community of St. Leonardo has passed away. He had been admitted to Borgo Trento Hospital on Friday the 28th July, due to a stroke which paralysed him on one side. He could not recover because of the frail health which affected him during this last period of his life.
Fr. Luigi was born in Lonato (Brescia) on the 20th October 1919. He had his Novitiate in 1936, frequented the courses of philosophy and theology at the Angelicum in Rome. He was ordained a priest on the 16th July 1944. He spent his first years of ministry at the Scuola Apostolica in Galbiate, Cadellara, Sezano and St. Leonardo. Then he was transferred to the parishes of S. Croce in Rome and St. Leone in Milan. Subsequently he went to the Stimmate and to Trento.
He became Provincial Superior from 1970 to 1976 and then Superior General from 1976 to 1982. He was back to Trento for one year and from 1983 he was transferred to St. Leonardo where he spent his last 23 years, ministering at the Shrine of Our Lady of Lourdes and as a superior of the Stigmatine Community.
We thank the Lord for his long and varied service which he gave to the Congregation and to the many people who came to him for advise and for counselling.
We extend our condolences to his brother, Fr. Angelo who is working in the Stigmatine Community of Pretoria North, South Africa.
A Funeral Mass will be firstly celebrated on Thursday, the 3rd August 2006 at 4:00 p.m. at the Shrine of Our Lady of Lourdes in Verona. Then the corpse will be transferred to Lonato (Brescia), where a vigil will be held in the evening. A second Mass will be celebrated on Friday, the 4th August 2006 at 9:30 a.m. at Lonato.
Italian version