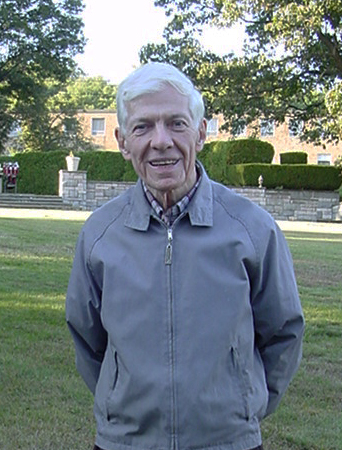 JAMES THOMAS CUNNINGHAM (priest)
Birth:
Boston 21.12.1
919
First profession
9.9.1944
Final profession
9.9.1947
Ordination:
3.6.1950
Death:
Newton Wellesley 22.1.2016
Age: 96 anni
Father James Thomas Cunningham, C.S.S., a member of the Stigmatine Fathers and Brothers, passed away at The Newton Wellesley Alzheimer's Center, Wellesley, MA on January 22, 2016. He was 96 years old. He was the son of John H. (born in Boston, MA) and Katherine M. (Casey) Cunningham (born in County Kerry, Ireland). He is pre-deceased by four (4) brothers, William, John, Henry and Daniel and one (1) sister, Helen (Kulda), all of Boston, MA. He leaves no immediate family. Father Cunningham entered the Stigmatine Community at Waltham on September 14, 1942. He professed his first vows as a Stigmatine religious on September 9, 1944 and his final profession of vows on September 9, 1947. He was ordained a priest on June 3, 1950 at Sacred Heart of Jesus Church, Milford, MA by Bishop (later Cardinal) John Wright, Bishop of Worcester. Father Cunningham served as associate pastor at the following parishes: All Saints, Manassas, VA, Our Lady of the Ozarks, Arkansas, St. Anthony, Agawam, MA, Lady of Mount Carmel, White Plains, N.Y., Sacred Heart, Waltham, MA and was Chaplain at Waltham Hospital (1981-1998). He was in retirement at Saint Joseph Hall, Waltham, at the time of his death. He was very much appreciated by the people for his kind and charitable character, and the pleasant and humble behavior. He was very popular for the songs that he accompanied by his accordion.
His funeral was celebrated at Waltham on January 27, 2016 and was buried in the Stigmatine cemetery of Milford.