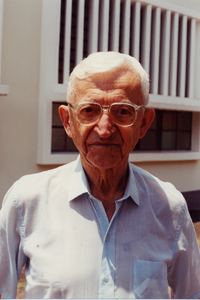 MARIO ZUCHETTO (priest)
Born: 16th January 1918 in Casa Branca, SP
Temporary Profession: 22nd November 1936
Final Profession: 22nd November 1939
Priestly Ordination: 4th July 1943
Death: 10th January 2008 in Chácara do Vovô.
Age: 90
He began his studies in his home town and then decided to join our Congregation during his secondary school. He worked as an assistant parish priest at Casa Branca from 1943 to 1952, while he was also superior of the Formation House for brothers. In 1953 he was appointed superior of the 'Colégio Santa Cruz' and afterwards he became director of the 'Instituto Missionário Pe. Gaspar Bertoni' at Ribeirão Preto.
In 1958 he was elected Provincial Superior and he remained in the office until 1964. From 1964 to 1967 he served as a superior of the temporary professed in the Formation House of Campinas.
From 1967 he dedicated himself to the work of preaching and this was the fulfilment of his dreams. He was particularly enthusiastic in preaching retreats and recollections to couples. He sometimes found his weekends booked for the following two years, because of the many invitations he was getting for this purpose.
In 1977 he published the booklet 'The spirit of total abandonment' in which he developed some aspects of the spirituality of St. Gaspar. He wrote also a short booklet on the defence of the faith which was re-edited three times and during the last period of his life he dedicated himself to commenting the Scripture: he wrote a Commentary on the Gospel of Matthew (2003), on Luke (2006) and on Mark (2007). These were collections of his sermons and conferences on the Word of God.
He laboriously studied and worked until his sickness blocked him in his bed at Chácara do Vovô.
Fr. Mario always loved his priestly ministry and strenuously dedicated himself to any kind of service with an admirable availability. He deeply lived the Bertonian spirituality and dearly loved our Founder.