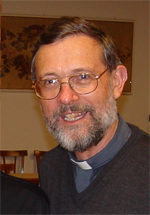 LINO VINCO (Sacerdote)
Nato a Lugo di Verona 23.9.1939
Professione temporanea 25.9.1958
Professione perpetua 25.9.1961
Ordinazione 4.12.1966
Morto a Negrar Verona 13.4.2010
Il 15.4.2010 al funerale a Lugo ha parlato Gianni Piccolboni:
Eulogy for Fr Lino Vinco : 15 April 2010
A little while after midnight, at the dawning of the day of Tuesday 13, when all was silence and peace, Fr Lino left the scene of this world on tiptoe, ready to start his new day near God. He was accompanied by Fr Giuseppe Carpene, a Stigmatine confrere who was holding his hand and softly praying: "Jesus, Joseph, Mary may my soul expire in peace with you".
During all the preceding days his sisters were lovingly close to him and suggesting prayers and holy ejaculations which ended in the refrain: "Heart of Jesus, do as you like! (Cuor di Gesú pensaci tu!"
Now we are many here, knocking together at the gate of heaven and begging a place for him next to God's heart.
In this church he was baptized and received the sacraments of Christian life and celebrated his first Mass. This living church is now saying: Mission accomplished! We give back to the Lord his life. The risen Lord, shining in his glory welcomes him saying: "Good and faithful servant, enter into your Lord's joy!"
We are gathered together here to live with faith and Christian love this moment of separation.
It's a hard time for those who remain and a glorious one for the one who takes leave. His departure is like the disappearing of a great living library. When you encounter certain persons, they leave a mark on you, a beautiful remembrance, because they touch your heart. One of these was Fr Lino. I lived with him for 30 years in South Africa, where we worked, dreamed and also strongly debated projects and initiatives.
I lived for one year with him when I was very young, before entering the Stigmatine novitiate, and Fr Lino was a theology student. At that time he was a young man full of imagination and highly spirited. He had a great love for the missions and a big longing to go there. He helped us to open our hearts so that all of us felt involved in the missions' world. He was good in many fields except in soccer. He used to excuse himself saying that because of his height the commands from his brain took too long a time to reach the feet's movements and therefore he was regularly missing the kick, and even the ball itself.
While very young, after completing his 25th birthday he left for South Africa in 1965. He had to conclude his theological studies at the national seminary of St John Vianney in Pretoria, and was ordained priest in the Mission of Brits. He spent all his ministry's years in that country. And there he dedicated all of himself without measure: he gave out all he could.
He had an extrovert and jolly character, always full of stories and interesting news with which he knew how to entertain everybody.
He used his talents to let the poor and the marginalized taste the gift of God's love. The paths of Fr Lino had the perfume of God's steps. We see him next to the aged, to the needy families, to the sick and the lower people.
With his frank, sincere and genuine tact he knew how to attract attention, appreciation and love of very many people. Proof of this are the many messages of appreciation received from Africa in these last two days. These are persons who at the other end of the telephone, ten thousand kilometers away, spoke with a lump in their throat, for losing such a man.
"We have lost a person on whom we put our trust" – said Fr Victor from Pretoria Cathedral. And Sr Gaudentia said:
This coming November there will be a celebration of the 50th anniversary of the Stigmatine foundation in South Africa. We were counting on him. It was he who had the connection with the history of the first missionaries. We were eager to hear from him about the beginnings, the difficulties, the joys and the adventures together with the dreams of the first missionaries. He will look at us from heaven, but we shall deeply feel his presence.
One of his last fields of apostolate was the community of Gaborone in Botswana. There was the new church to build. Beside the brick building he dedicated himself to build up the living stones of the parish community. He organized an extraordinary parish mission, getting everybody involved: lay people, priests and sisters and seminarians. Seventy persons visited all the families of the area. Without doubt this was among the best works he has done in which he expressed his zeal as a shepherd and guide. It will remain memorable.
He liked to work in the rural areas, among the poorer people. When he could see the possibility of establishing the Catholic church in a village, he threw all of himself into the enterprise. It was not easy, both in the apartheid era and nowadays.
In a diocese of great demographic expansion with thousands of immigrants, the bishop of Pretoria gave him the task of choosing and negotiate with the competent authorities the areas for the catholic worship and institutions. He developed this charge with enthusiasm. I had to take from him this work and he accompanied me in distant villages to show me the way and to present me to the various community leaders. Far away in the South African savanna we met on the way a small family who was walking on foot…. We stopped with the intention of asking for directions. As soon as they recognized Fr Lino, they were taken by such joy that they jumped on him and embraced him.
If somebody liked to join him in his daily movements, he would never know whether there would be food to eat or when one would eat. Fr Lino was often oblivious of eating his lunch and of the need of those accompanying him to grab a snack.
He took at heart the problems of others, especially those who were neglected, and he made every effort to look for solutions.
He was enthusiastic when talking about Africa. He knew very well the history of the Bakgatlha tribe, the ethnic people who live in the territory in which our first Catholic mission was developed. He knew the various legends which form their cultural and oral traditions. He was a pioneer in opening a dialogue with the "traditional doctors" or "healers". He grouped them in an association with the intention of discovering and value their original ideas of God. He wanted to discover the goodness and the beauty in each culture and in each human being.
Fr Lino loved the mountains and loved the adventures in climbing them. He was knowledgeable in botany and minerals. He was passionate about collecting rocks wherever he had the opportunity. He used to lead the visitors up the hill behind Mmakau to show them the remains of ancient dwellings, explaining the structure of the original villages, and even beating the "musical" rocks – as he called them - to get different sounds out of them.
He was not so fortunate in picking mushrooms. We spent once some anxious moments after eating mushroom of dubious quality.
He possessed the wisdom of God's long and patient times, but this did not prevent him from sowing good in hope.
He was committed at his utmost. A confrere from South Africa sent me a profile of him, yesterday: "Fr Lino, a figure dear to all of us". After his operation he kept a serene attitude. Notwithstanding signs of evident physical weakness, he had a constant attention for people and in particular for catechists. He always attended the formation courses of his catechists. We hope that his words and his generous pastoral involvement may help all of us to carry on our witnessing as individual and as a group, for an interior pure and generous pastoral engagement.
Fr Lino had a special concern for priestly and religious vocations and their formation. 25 years ago the Stigmatines began accepting vocations for the congregation, and they chose him to be the first formator and Master of novices. Before this Fr Lino was chosen by the bishop to help in the formation of another local religious Institute in which he distinguished himself for his good qualities as an educator.
Dear Fr Lino we have wished to remember some things of your life – perhaps we have mentioned too few, because you had a human and Christian depth much more intense and qualified. We still feel you present among us and look at your candid and reassuring smile.
Thanks for having been a man of sound principles and of consistency. You have spread to us the love for God, for the Church, for the Missions, for the poor and for the last ones.
We thank the Lord for having sent you on our path and we thank you also on behalf of all the communities which you have left in South Africa. For your 45 years of missionary work. The Catholics of our missionary region are here present in spirit and will remember you tomorrow evening in each parish community with a special celebration to thank for the gift of your life spent for them.
This is how our human and missionary adventure ends, as well as our projects of evangelization, catechesis and other social initiatives.
Good bye to our homy little feasts in which you entertained us, young and old, singing "Nella Vecchia fattoria" or "La Santa Catarina", with some sleight of hand. As well as the great laughs when you told us of your adventures at the beginning of your life in South Africa, in studying English – this strange language – when you wanted to ask a friend to help you with a bicycle and instead of asking him: "Do you have a bicycle?", you said – after serious reflection and preparation – "Are you a bicycle?"
You constantly had something creative and magic and surprising and unforseeable. Now you no longer need bicycles to move about, nor languages to communicate with. Because you speak the common language: the language of God, the language of love.
But you have left an empty space down here, Lino, among us and down there in South Africa. We have agreed to nominate you our Vocational Promoter. We rely on you. You must send us somebody to work in the place that you left vacant and in that project left unfinished in Ga-Rankuwa.
Now you go away as a champion. Enter into the heart and light of God. The other missionary confreres who preceded you are waiting for you: Saint Gaspar, Our Lady whom you loved so much and for whom you built grottos similar to that at Lourdes and whose shrine you beautified at Jonathan. You will meet your parents, your sister Teresa and all those who through your ministry have died in the peace of the Lord. They are all there to wait for you and to accompany you to the Lord. We leave you in their hands.
Thanks for your style, for the optimism and the trust that you inspired, for having been a sower for and God and a missionary "of origin" – with a big "g" at the end for "guaranteed".
Good by, Fr Lino and a great embrace from each one of us.
A personal tribute to Fr Lino Vinco
I cannot be present at your funeral. We have lived together for 53 years, beginning from September 1952, when we tiptoed naïvely into Providence' plan at Cadellara (VR). We grew together. We were quite different but always together. Then in the springtime of our religious profession there sounded an appeal: "Who would like to go to South Africa?" I had already applied to go to Brazil but my request was turned down because they said I was not made for that continent. You came to beg each one of us in the group to go with you and help those aging missionaries in South Africa. And I ate the bait. It must have been the most beautiful and right decision of our life. And then always together until 2005 when our superiors had the idea of sending me to USA.
I must tell you that I was constantly attracted – and at times even disturbed – by your impulsivity and naiveté in risking. To be a missionary was for you also an adventure. It meant to discover something new. It meant to wonder for what was new and different. Because of this you used to involve yourself in a thousand initiatives. You were also able to play the buffoon, to entertain the children and make adults laugh. You showed that we had really fallen in love with Africa. This helped you to go on steadily even when defections, betrayals and failures did happen. You kept loving Africa because you had wedded her.
The little altars and grottos which you built in Dedi Street (at Lugo), as a dreaming boy, had become churches and chapels. Thousands of people have passed through your priestly and missionary hands. Your wide smile, which easily seduced everybody, will always remain in our memories.
With your departure a large piece of my memory is gone too. It was you who used to remind me the many stories of our long journey together, and you added a lot of lovely particulars.
Yesterday we have spent three hours walking in the woods of the Folsom lake. It was only me who rolled the memories and did the talking, but I had the clear feeling that you were listening and often laughing, too.
Rest in the light of your Lord, Lino, whom you served in joy!
Giancarlo Mittempergher
Sacramento, April 13, 2010
Italiano