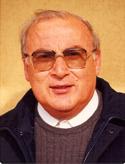 PETER VERONESE (priest)
BORN
Verona,

August 26, 1938
PERPETUAL PROFESSION
September 25, 1959
PRIESTHOOD
June 21, 1964
DIED
Battipaglia, SA – February 17, 2004
AGE: 65 years old
About 4:00 a.m., on February 17th, 2004, Fr. Peter Veronese died. He was 65 and a half years old. About 15 years ago, after a blood examination, he was diagnosed as suffering from hepatitis C: and it is not known how he contracted this. From that time onward, his activity began slowly to diminish. Despite all the care rendered to him by the doctors of the Hospital of Eboli, his illness developed into cirrhosis of the liver. As a result of this, Fr. Peter was forced progressively to withdraw from his many activities, and this eventually reduced him to an almost total inactivity.
Out of his love for southern Italy, where he had consumed almost all of his physical and spiritual energies, he expressed his strong desire to remain in Battipaglia and asked not to be transferred to our retirement house of San Leonardo, in Verona. To enable this, he was assisted day and night by a family close to the community. Two days prior to his death, he was rushed to the hospital of Eboli, but after only a few hours, he was discharged because there was nothing more to do for him. In his last days, he was visited every day by his Provincial, Fr. Aldo D'Andria and by Fr. M. Curto, and Fr. F. Guida and they brought to him the comfort of the Sacraments. His long and painful illness purified him, and in the school of God he was taught that there was only genuine reality: to do the will of the God of love.
His body lay in state for a full day in the Sanctuary of our Lady of Hope, in order to afford the possibility for many to offer a prayer and their final farewell. His funeral was presided over by the Vicar of the Diocese of Salerno, and was con-celebrated by Fr. A. Piccirillo, Vicar General, by numerous confreres, by priests of the region, with the presence of his sister Ines, his nephews and nieces, by the Mayors of Poggiomarino and Battipaglia, by the students of our Catholic School and by a great number of the faithful. Before bringing the body to the local cemetery, the cortege passed by the 'Opera Bertoni' in order to receive the tribute of the teachers and the students, and for a final prayer.
Fr. Peter Veronese was born in Verona, of Silvio and Stella [Gasperotto], on February 26, 1938. His father was a prisoner of war in America, and returned to the family when Peter was in the third grade of elementary school. Up until that time the family lived in real hardship and genuine poverty. Young Peter was a very lively boy. After an early period of some rebellion, he accepted the suggestion of his Pastor to become a priest, and entered the Stigmatines. These were years of intense study and also of crisis which he overcame with generosity. He emitted his Perpetual Profession on September 25, 1959 and on July 21, 1964, he was ordained a Priest in the new Sanctuary of Our Lady of Lourdes in Verona, which opened for worship on that occasion.
He was then sent to the 'Opera Bertoni' in Battipaglia as Prefect of the Aspirants and then to Udine with the ask of Vice rector of the College. Because of the difficulties and lack of understanding that he encountered, he was transferred and spent a very beneficial year in Rome, at St. Agatha's, very committed to a course of renewal. He was then assigned to Poggiomarino in 1971, where he served as Superior from 1976 to1979, and was also Pastor. The social and religious context there stimulated in him forward-looking initiatives which aroused some discussion and reaction, to the point that the Superiors 'promoted' him by sending him to Battipaglia to set up the Catholic School, where he served as administrator and also as a teacher. Over time, he filled the office of Vicar Provincial and pastor in Aversana. He was a tireless worker and a zealous priest and for the good of the tasks assigned to him and for the faithful of the area he spent himself fully, without respite, and was much sought after as a Confessor. He also suffered from certain accusations which he was able to overcome, thanks to the faith and support of many and his confreres who were close to him throughout this ordeal. He always taught, inspiring his collaborators, the youth and the students of the school with a certain severity illumined by love, not to give in ever, but to remain on the job. His often used expression was: we are like locomotives on the journey, and we should not be side-tracked by others!
When the time came for his vocation to become one of suffering, he took this on with real determination and patience. He came to the point of giving authentic example of a solid faith, particularly in those moments bordering on desperation. He entrusted himself to the Virgin Mary, a Mother whom he loved and invoked with genuine tenderness. He has left behind a certain record of his efforts in a booklet entitled, The Confessions of a Priest, which will be made available as soon as possible.
'Good and faithful servant, enter into the joy of your Lord!'
Italian version