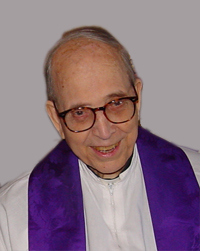 ALBERTO CELESTE TAMBALO (sacerdote)
n. Palù VR
7.6.1912
m. Verona 13.9.2008
Fr. Alberto Tambalo was born at Palù, a small town near Verona on June 7, 1912. In the year 1924, at the age of 12, he entered our seminary at the Holy Trinity's community in Verona. He completed his novitiate in Trent in 1929 and had his first profession in 1930 and then the perpetual profession on January 23, 1934. After finished the theology, he was ordained priest in Verona on 11 July 1937.
Full of his apostolic zeal and serenity, he worked in various communities in the Northern Italian province As a young priest, he was a curate and took care of the flourishing youth oratory in Gemona. Then he was called to Carpi (Modena) to be a secretary of Archbishop Carlo de Ferrari, a Stigmatine newly ordained bishop.
He served in various communities (in chronological order); namely, as an assistant pastor in Trent, then Santa Croce parish in Rome, then an assistant in Bellizzi, as delegate pastor of a parish in Belvedere, back to Gemona and then to Pavia to be in charge of youth movement, and as member of our first community in the Holy Trinity (SS. Trinità) in Rome, founded in the early sixties
His long and important work was the rector of the Shrine of Our Lady of Lourdes in Verona (1963-1982), where its first sanctuary was built in the city area call "Cittadella", then it was destroyed by bombing during the Second World War. After twenty years was called by superior to be in charge of our beautiful Shrine rebuilt on the Austrian fortress of San Leonardo.
It was here that it was manifested his apostolic zeal, a great administrative skill and a fervent love of our Lady. He organized pilgrims and trips to Lourdes for the sick, with UNITALSI groups, and also the celebrations, processions, beautiful paintings, statues and stained glass that embellished this Shrine. The city of Verona finds a spiritual oasis in that place of prayer and devotion to Blessed Virgin Mary. Finally he left this task to others, because of his advance age and illness, but he always remembered as faithful "watchman" of Our Lady of Lourdes.
Lucidly until the last days of his life, he calmly accepted the suffering that the Lord has sent. On September 13, 2008 he breathed his last at the Hospital of Verona, while assisted by a confrere.
May the Blessed Virgin Mary, whom he loved and revered so much, welcome him in her arms and accompany him to Almighty God.
The funeral will take place on next Tuesday, September 16, at 14.15, at the Shrine of Our Lady of Lourdes in Verona.
Rest in peace.
Fr. Andrea Meschi
Superior General
Versione italiana