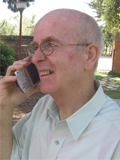 DANILO PANATO (Priest)
Nato 30.6.1944 San Giovanni Ilarione (VR)
Professione temporanea 25.9.1963
Professione perpetua 25.9.1967
Ordinazione 4.7.1971
Morto 9.3.2009 Palombaio (BA)
On the 9th March 2009 at 19.59, after a long agony, our dear and simple Confrere, Fr. Danilo Panato has gone back to our Fatherís home.
His lifeís journey starter in San Giovanni Ilarione (VR), on the 30th June 1944. He entered the Congregation at a young age and began his formation experience, as he was loved and appreciated by everybody for his always meek but determined availability. He willingly remembered, and sometimes with fair irony, the time spent in formation at San Leonardo, where he professed his final vows in 1967, and happily narrated events about people and significant moments of his life, underlining the importance of his Stigmatine and missionary vocation.
Ordained a priest on the 4th July 1971, he spent his entire religious and ministerial life in the Province of Our Lady of Hope, especially in its mission areas. His priestly approach to people, marked by humility, serenity, simplicity, rich faith, deepened by a solid spirituality based on St. Gasparís teaching, left a profound impression in all those who came to know him in Sicily (Catania), in Campania, (Poggiomarino), in Puglia (Bari) in Calabria (Montegiordano). We are all aware of the good that he has spread, especially because of the vast and touching witness of appreciation and love that he received during the long Way of the Cross he endured during the last years of his life. Notwithstanding the sufferings, he managed to show an incomparable serenity and an unshakeable faith. His great love was for the missions, where he spent most of his best energies and humble service, teaching to all the value of obedience to Godís mysterious designs and a special generosity in accepting any kind of Stigmatine apostolic work. Fr. Danilo was not the man who used useless words and excessively asserted himself. His essential lifestyle was based on the practice of love for others, for Stigmatine life, for the witness of the Gospel, wherever God was calling him to be and work. His missionary experience outside Italy started in the Philippines in 1984, while associated with Frs. Romolo Bertoni and Charles Sinesi in the foundation of that new form of Stigmatine apostolate. He later came back to Italy and in 2002 he availed himself to start our presence in India.
As from 2007 he was sent to live at Palombaio, because of the first appearance of his sickness: there he lived his fraternal life in serenity, a decisive moment of test for his physical and spiritual health. During the same year he underwent an operation to the colon aimed at removing a developed tumour. With this he started his Way of the Cross, which he accepted in truly Bertonian abandonment Ďunder blades and knivesí, with great simplicity, humility and peacefulness. He never showed any repulse, any complain, even if due, against the pain which entrenched his body. It was amazing how he accepted the many hospitalizations, the medical visits and check-ups, being such a reserved and shunning person. He even serenely accepted his own total dependence on others.
He had also the great consolation of enduring this painful experience with the help of a warm and loving community: both Stigmatines and lay people helped him by accompanying him to his last moments. We, his Confreres, have been highly edified by his patience and spirit of abandonment to Godís loving will who asked him to participate in his Sonís Passion in order to complete it in his body. In the current Pauline Year Fr. Danilo has taught us how to be a follower of the Great Apostle of Tarsus.
Until the last day Fr. Danilo remained aware of and consciously lived his way to Calvary. On the 19th February, at the presence of Bishop Giancarlo Bregantini, he received the Sacrament of the Anointing of the Sick. As from that day, Fr. Danilo would no longer be able to rise from bed. Day after day his health conditions deteriorated until the day of his death, when the use of morphine became compulsory. Always aware of what was happening to him, he accepted, as a true son of St. Gaspar, suffering and finally death. In the morning the community shared with him the commendation prayer. In the afternoon a resurgence of unbearable pain brought him to a coma. A few moments before his expiration the community accompanied him in pronouncing his final fiat.
We would like to witness to everybody the great act of courage of this humble and strong son of St. Gaspar, while we are assured that he now lives in communion with the saints and intercedes for us and for his beloved Congregation.
The funeral ceremony is held on the 11th March 2009 in our parish of Santa Maria della Speranza in Battipaglia and the burial is to take place in his native village according to the will of his relatives.
The Stimatine Community of Palombaio
Palombaio, 9th March 2009
Italiano