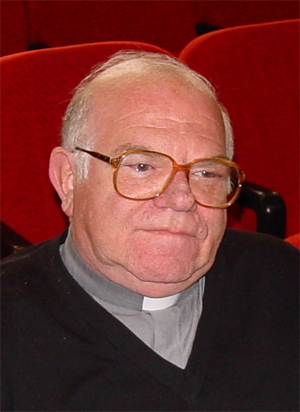 ROBERTO ONGARO (sacerdote)
Nato a Cereda Valdagno il 21 giugno 1943
Entrato a Cadellara 1 settembre 1954
Prima professione 25 settembre 1960
Professione perpetua 22 giugno 1964
Ordinazione a Cereda il 20 aprile 1968
Morto a Udine 15 settembre 2007
Anni 64
Fr. Roberto, on 18 August 2007, celebrated a Mass at a niche dedicated to Our Lady, in Poscole, near Cereda, the hamlet where he was born and grew up. It was a Saturday evening, vigil Mass for Sunday. The Gospel was talking about signs. "When you see a cloud rising in the west, you say at once, 'A shower is coming'; and so it happens. And when you see the south wind blowing, you say, 'There will be scorching heat'; and it happens." (Lk 12:54-55). Jesus invites his disciples to read the signs of the times. Fr. Roberto, commenting on that passage, shared that an important sign in his life had been that very niche, where as a child during the month of May, he would join all the inhabitants for the prayer of the rosary. That evening he met with the almost all people of the hamlet, about fifty people. Not exactly the same people as fifty years earlier, but bearing the same values which accompanied him in his growth.
If we want to understand Fr. Roberto, we have to go back to those times, to the faith that he drew from his family, to that prayer that his mother, Maria, had taught him. She was patiently praying that prayer with him every evening, so to entrust their lives to God's Providence and to Our Lady of Monte Berico, a traditional devotion of the family. While Fr. Roberto was called to the everlasting life, last Saturday, some of his relatives were at the shrine of our Lady, together with many parishioners from Cereda, to commend their beloved ones and themselves to the protection of the Holy Virgin.
The values which Fr. Roberto learned as a child would accompany him right through life. The link with his home place and his home people had always been strong.
We would like to recall a special occasion, on the 20th of April 1968, when he was ordained to priesthood. This event would remain in the heart of those who could be present. In fact, though Cereda is a small village on the upper side of Agno Valley, suddenly it became the centre of attention for the whole Diocese of Vicenza, since three young men were to be ordained on that day in the parish church, dedicated to St. Andrew. They were: a diocesan, Fr. Bruno Marangon; a Minor Friar, Fr. Silvio Pronovi and a Stigmatine, Fr. Roberto. On the same occasion a deacon was ordained, Fr Camillo Disconzi, now missionary in Côte d'Ivoire, from where he sends his prayer.
The bond with the community where his faith was born remained always very strong and many people of Cereda are still witnesses of this.
Life had been not smooth for Fr. Roberto, though his open character presented him always happy and well mannered. The father, Bepi, died at the age of 57 and his mother, Maria, was called not many years later. These losses marked deeply the heart of Fr. Roberto, though they strengthened the bond with the families of his brother, Silvio, and his sister, Gianna, so his need for family affection could be satisfied.
Fr. Roberto gave the best of himself in those communities where he was assigned as a pastor. He started at Battipaglia, as parish priest for some years; then he went to Trento for 6 years, Milan (Santa Croce) for 14 years and Pavia for other 8 years. The days were full of activities, meetings, contacts with any kind of people, care for any request, cooperation with other people involved in the ministry.
Among the many things one may mention, we would like to note his love for the Liturgy. He showed this love when he was still a student at the renowned Anselmianum, in Rome. Fr. Roberto showed love for the churches where he was serving, as if his brides. He took care that everything was in the right place and in a pleasant order. He wanted that matters were done properly and he liked solemn services, since he felt that it was the best way to praise and bless the Lord.
He could present with humour his passion for unusual liturgical vestments, which he would use at times. On the occasion of a visit to his sister, we were looking at family photos, and in one of them he was portrayed in the church of Santa Croce, in Milan, seated majestically, dressed with an old priestly hat and a mantle of white ermine. He was smiling at these clothes which belonged to a past glorious tradition, but he was also revealing his desire to use all those signs by which the Church would present herself as the dignified bride of Christ.
His presence was important to the life of the Italian Province of the Sacred Heart. He had been Provincial Councillor from 1976 to 1979, then again from 1997 to 2000, then Provincial Vicar from 2000 to 2006. In these tasks he showed attention and participation to the life of the Congregation, very dear to him, which he loved with the whole self. Because of his knowledge of the Canons he would appear quite fussy when he was looking for the perfect formulations for rules and directories, on the occasions of Provincial Chapters, but this was just a sign of his attachment to his Religious family.
He spent his last years in Udine, as the superior of the community, in a period of difficult transition about the management of that huge institution, comprising of a renowned middle and high school and of a boarding for university students, with a capacity of hosting 150 boarders. Out of his ministerial interest, he also offered himself for regular Sunday help to the parish of the Redeemer, in Udine.
"Come, good and faithful servant, receive the prize of the fatigues you bore in your apostolic ministry". We think these could be the words he heard from the Lord when he called him from this life.
We accompany him with our prayer. May his ministry and his pastoral service keep alive in God's people the flame of faith, of hope and of love.
(English trans. by Fr.Daniele Giacomelli)
Dall'ordinazione al 1971 fu prefetto degli aspiranti a San Leonardo.
Poi studiò liturgia a Roma per un anno.
Dal 1972 al 1975 fu coadiutore a Battipaglia.
Dal 1975 al 1982 fu parroco dello Sposalizio di Trento.
Dal 1982 al 1996 fu parroco a Santa Croce di Milano.
Dal 1996 al 2004 fu parroco a Pavia quando fu chiusa la nostra casa.
Dal 2004 fu superiore a Udine
Italian version