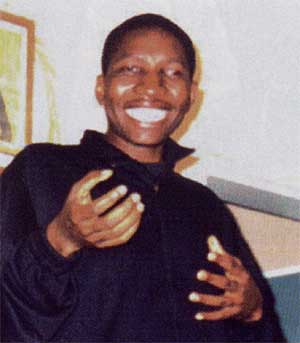 MATTHEW MWIMBE (Brother)
BORN:
Zambia 16th May 1977
ENTERED:
1998
FIRST PROFESSION:
23th January 2004
DIED:
Gaborone West - 19th February 2005
AGE:
28 years old
In the evening of Saturday, the 19 February 2005, while coming home from his ministry at Gaborone Central Prison, Br. Matthew Mwimbe died in a collision with other cars on the road between Gaborone and Lobatse (Botswana), next to St. Joseph's College junction. He belonged to the community of Notwane and had made his first profession among the Stigmatines just a few weeks before, on the 23 January. He was helping in the Novitiate and was looking after St. Gaspar Bertoni Centre which had just started its pastoral activities in the new building. He was also involved in catechesis at St. Bernadette parish in Gaborone West, in the prison ministry and the youth apostolate with the programme ĞEducation for Lifeğ.
Matthew was born in Zambia on the 16th May 1977, the last born among nine children. He lost his parents at an early age and was raised by his brothers. After the High School he joined the Stigmatines in 1998 at Msolwa (Tanzania), attended his philosophical courses at the Salvatorian Institute in Morogoro (Tanzania) and entered the Novitiate of Notwane in 2004. He professed his vows for the first time on 23rd January 2005, just a few days before his sudden departure.
Joyful and generous, he contributed positively to our community life, with his inquisitive character which did not spare healthy criticism and discussion. He wrote: ĞI was inspired and I opened my eyes to see the misery and anguish that so many people were going through. (...) They had no one to care for them, no one to pay for their studies yet I had a brother who, though he had his family to care for, made sure I went to school. This prompted me to live a life of helping others which I find is done in a more deep and loving manner in religious lifeğ.
This was his programme of life for which he will be remembered. May he rest in peace.
For the Stigmatine community of Notwane
Fr. Steven Senaldi
Italian version