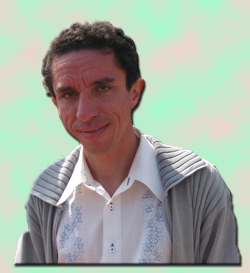 GISLEY AZEVEDO GOMES (priest)
Born at Morrinhos-GO on 17.11.1977
Final Profession at Goiânia-GO on 23 January 2004
Priestly Ordination at Morrinhos on 29 May 2005
Died at Brasilia-DF on 14.06.2009
Padre Gisley nacque a Morrinhos-GO il 17 novembre 1977, da
Father Gisley was born at Morrinhos-GO on November 17, 1977, from Sebastião Azevedo Gomes and Sebastiana Maria Gomes.
He entered the seminary of "São José" on January 23, 1995. He completed his Philosophical studies at Goiânia, his noviciate at Uberaba-MG and his Theology at Belo Horizonte-MG. He finally professed at Goiânia on January 23, 2004. He was ordained a priest at Morrinhos-GO on May 29, 2005. He exercised his first priestly ministry at Belo Horizonte-MG.
In May 2006, on the request of the Brazilian Bishops Conference (CNBB), he was made available for the service to the Youth Ministry as member of the national Office, where he was still working at present. To be able to exercise this ministry in a better way he was transferred to the community "Estância Gaspare Bertoni" in Brazilia-DF. In this CNBB sector he executed his task with much dedication with the youth and he was respected by everybody.
He was a young and very wise priest and he engaged himself with seriousness and faithfulness in the activities which were almost always referred to the youth.
As a confrere he was keeping easy and lively relationships, happy to show out his Bertonian characteristics developed in various fields.
On that sad evening of June 14, 2009 he was called around the time of 10.45 pm for an engagement, when he was suddenly attacked by some people.
The confreres of his community, together with members of the CNBB, after seeing that he did not return the following morning (June 15), began to get worried. Unfortunately the worst had happened: he had been killed by his attackers towards 11.50pm of June 14 with three shots in the head, according to the doctors' opinion. All know that in this type of aggression the criminals are used to kill their victim cold bloodedly.
His body was found on June 16 at 1.30pm and was brought at the IML of Brazilia-DF. After the autopsy, the body was brought to the church of Santa Cruz and Santa Edviges, where the funeral service was celebrated by the CNBB at 7am of June 17.
In the afternoon the body was brought to Morrinhos-GO and a vigil was made in the church of São Sebastião. On June 18, at 8am the funeral was celebrated.
Fr Gisley is buried in the tomb of the Stigmatines in the local cemetery of Morrihnos-GO.
Let us pray for his soul's rest. RIP.