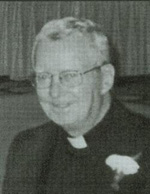 P. JOHN HENRY FORD
Born June 11, 1927
Professed: June 13, 1951
Ordained: June 8, 1956
Died: June 29, 2003
Dear confreres,
With profound regret and sadness I announce the death of our confrere, REV. JOHN H. FORD, C.S.S. Fr. Ford died this evening at 7:00 P.M. (June 29, 2003) at Kindred Hospital, Brighton, Massachusetts.
Fr. Ford was born on June 11, 1927 in Quincy, Massachusetts and entered the community on September 8, 1941. He professed vows on June 13, 1948 and was ordained to the priesthood on June 8, 1956. His priestly life and ministry were dedicated to mission apostolates in Guam, Brazil and South Africa, teaching assignments at Elm Bank Minor Seminary in Wellesley, Massachusetts and parochial ministry in Feeding Hills, Massachusetts, Woodbridge, Virginia, and Timmins, Ontario, Canada. At the time of his death he was serving at Our Lady of Mt. Carmel Parish, Pittsfield, Massachusetts.
The Wake Service will be held on Tuesday, July 1, 2003, from 2:00-5:00 P.M. at the Espousal Retreat House Chapel, 554 Lexington Street, Waltham, Massachusetts. The Liturgy of Christian Burial will be celebrated on Wednesday, July 2, 2003,at 10:30 A.M. at the Espousal Retreat House Chapel. Burial will follow at Sacred Heart of Jesus Cemetery, Milford, Massachusetts.
In the spirit of charity the confreres are reminded to pray for Fr. Ford according to our General Directories 35, 2, 3.
May God grant fullness of life to our brother John, and peace and consolation to his family and to those with whom he ministered.
Fraternally in Christ Jesus,
Very Rev. Gregory John Hoppough, C.S.S.
Provincial Superior
Prepared by Richard A. Scioli, C.S.S.
Inglese