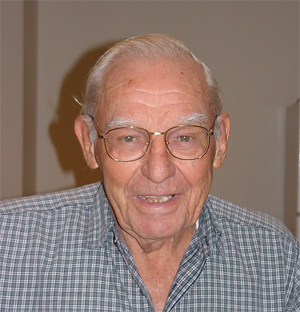 P. HENRY FELLIN (Priest)
Father Joseph Henry (Enrico) Fellin, C.S.S., a member of The Congregation of the Sacred Stigmata of Our Lord Jesus Christ (Stigmatine Fathers and Brothers) died on January 25, 2007 at the Newton-Wellesley Hospital, Wellesley, MA. Father Fellin was born on August 27, 1921. His parents were Fiorello and Emma (Polli). His family includes: two living sisters: Esther DeBias (Tresclow, PA), Regina Rigotti (Hazelton, PA), three deceased sisters: Mary, Ellen (Enama), Irene (Marcolina) and three deceased brothers: Fiore, Richard and Victor.
Father Fellin entered the Stigmatine Seminary, Waltham, MA, on September 16, 1932, professed his first vows on September 9, 1937 at Waltham and his final profession of vows on August 28, 1942 at Hinsdale, MA. He was ordained to the Holy Priesthood on June 12, 1945 at Sacred Heart Church, Newton Center, MA, by Richard J. Cardinal Cushing.
Father Fellin served in many ministries during his Priesthood. After obtaining a Master's Degree in English Literature from Boston College, he served as dean of studies and prefect of the seminary community from 1945-1951 and again from 1952-1956. He also served as seminary rector for three years. In 1961, he opened the novitiate in Waterville, New York and served as superior there until 1964. After three years as editor of the monthly magazine. The Stigmatine, he served at Saint Veronica Church in Sault Ste. Marie, Canada and Saint Ann Church in West Springfield, MA. From 1964 until 1967, he served as rector of the Stigmatine Seminary, Wellesley, MA. In 1967, he became pastor of Our Lady of Mount Carmel Church, Pittsfield, MA until 1973. He then served at Sacred Heart Church, Timmins, Ontario, Canada for one year and then, from 1974-1976, he was Director of Religious Education at Our Lady of Angels Church, Woodbridge, VA. Father Fellin then became pastor of Saint Anthony of Padua Church, Agawam, MA from 1976-1990. He also served as spiritual director at the Stigmatine House of Formation, Cromwell, CT and in 1991, became pastor of Holy Family Church, Lynn, MA. After these many assignments. Father Fellin retired at Saint Joseph Hall, Waltham, MA.
Father Fellin's Wake will be held at The Espousal Center Chapel, 554 Lexington Street, Waltham, MA on Monday, January 29, from 9:00 A.M. to 11:00 A.M. followed by his Funeral Mass at 11:00 A.M. Burial will take place at Sacred Heart of Jesus Cemetery, Milford, MA at l:30 P.M.
May our gracious and loving God receive Father Fellin and reward him with eternal peace and joy in Heaven.
May he rest in peace.
Versione Italiana