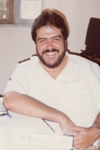 MÁRIO JOSÉ FILHO (Priest)
Born: May 2, 1955 in São Paulo, Brazil
First Profession: Jan. 23, 1986
Perpetual vows: Oct. 23, 1988
Priestly Ordination: Jan. 28, 1989
Died: Oct. 13, 2011 in Ribeirão Preto, SP, Brazil
Age: 56
Province of the Holy Cross, Brazil
Death is nothing
Address from the Priestly Pastoral of the National Conference of Catholic Bishops in Brazil in posthumous tribute to Father Mário José Filho, CSS, dead on October 13, 2011.
All of us are very saddened by the departure of Father our great friend of all hours… We believe something better awaits for us after death: the life in God, what shall give us rejoice and comfort, as there, in the communion of saints, this bond can never be broken.
We, who love God, and believe in the resurrection, continue striving, even so saddened and full of longing, but confident that Our Lord will give us always, and in the right measure, the comfort we need.
Let us recall to our minds these words from St. Augustine:
"Death is nothing. I have only passed to the other side of the Path. I'm myself, you are yourselves. What I was to you, I will continue being.
Give me the name you have always given to me; talk to me as you have always done.
You continue living in the world of the creatures; I'm living now in the world of the Creator.
Don't use a formal or sad tone, but continue laughing of what made us laugh together.
Pray, laugh, think on me. Pray for me.
May my name be said as it was always, without emphasis of any kind; without any trace of shadow or sadness.
Life means all it ever meant; the bond was not broken.
Why should I be out of your thoughts, now that I am only out of your sight?
I'm not far from you; I'm only at the other side of the Path…
You, who stayed there, go forth straight, and the life continues, pretty and beautiful as it was always."
Priestly Pastoral of the Conference of the Catholic Bishops in Brazil [CNBB]
Necrology:
Father Mário José Filho (1955-2011) was born in São Paulo, SP, Brazil, on May 2nd, 1955. He was son to the late Mário José and Alice Augusta José.
He entered the Stigmatine Seminary in Ribeirão Preto on December 10, 1972. He professed his first religious vows on January 23, 1988, in Campinas, SP.
He was ordained a Stigmatine Priest on January 28, 1989, at the Our Lady of Good Counsel Parish, district of Mooca, in São Paulo.
As a Stigmatine Priest, he ministered on the following cities: Curitiba, PR (1989), Ribeirão Preto, SP (1990), the Stigmatine Retreat House and Conference Center [Santana Ranch] (2001) and Ribeirão Preto (2010).
He also served our congregation as Formator, Pastor, Principal at the Holy Family School (in São Caetano do Sul, SP); Provincial Councilor; Parish Vicar; Economus of the Province of the Holy Cross;
Professor and Director of Department at the University of the State of São Paulo (in Franca, SP). He was also National Spiritual Director of the Married Couples Movement under the guide of the Virgin Mary.
In his educational and academic life, we find the following records: he was graduated in Philosophy by the Stigmatine Institute of Philosophy (1980); in Social Service (1984) and in Theology (1988) by the Pontifical Catholic University of Campinas. He was post-graduated in Philosophy of Education by the Pontifical Catholic University of Campinas (1992) and achieved Doctorate degree in Social Service by the University Júlio de Mesquita Filho of the State of São Paulo (1998). By this latter university, he achieved Post-Doctorate degree in Social Service in 2007. He accumulated long experience in Social Service, with emphasis on Methodology of Social Service in Family, Society and Social Politics.
He died at 8 hours and 10 minutes on the morning of October 13, 2011, on age 56, after almost two weeks in the St. Francis Hospital, in Ribeirão Preto.