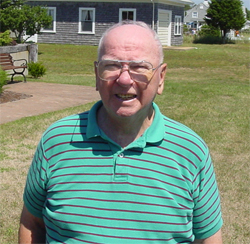 JAMES EDWARD FLANAGAN (priest)
REVEREND JAMES EDWARD FLANAGAN, C.S.S. Congregation of the Sacred Stìgmata
(Stigmatine Fathers) Province of the Holy Spouses (U.S.A.)
Father James E. Flanagan, C.S.S., 90, of the Stigmatine Fathers, Waltham, MA, Province of the Holy Spouses, died at The Maristhill Nursing Facility, Waltham, MA on Sunday, June 22, 2014.
Father Flanagan was born on January 14, 1924 in Norwood, MA. He was the son of Edward J. Flanagan (born in Govern, Scotland) and Grace (Collins), born in Sharon, MA.
He has two (2) hving brothers: William, Walpole, MA and Paul, Center Conway, N.H. and one (1) Hving sister, Nancy (Bassignani), Plymouth, MA. He is pre-deceased by three (3) brothers, Edward, Kenneth and Francis and one (1) sister, Catherine.
He entered the Stigmatine Fathers at Waltham on September 21, 1938. He professed his first vows at Waltham on March 9, 1945. He professed his final vows as a Stigmatine Religio us on March 9, 1948 at Wellesley, MA and was ordained to the Holy Priesthood at Sacred Heart of Jesus Church, Milford, MA on June 3, 1950 by then Bishop (later Cardinal) John Wright.
Father Flanagan served in many apostolatcs of the Stigmatines:
• Father Duenas School, Guam
• Sacred Heart Church, Feeding Hills, MA
• Holy Family Church, Lynn, MA
• Sacred Heart Church, Waltham, MA (Pastor)
• Mount Carmel Church, Pittsfield, MA
• St. Anthony Church, Agawam, MA
• AH Saints Church, Manassas, VA (Pastor)
He also served the Stigmatine Community as Vicar Provincial and on the Finance Com mirtee.
The Wake for Fr. Flanagan will be held on Saturday, June 28 at Sacred Heart of Jesus Church, 5 East Main Street, Milford, MA from 9-10 A.M., followed by the Funeral Mass at 10:00 A.M.. Burial will talee place at Sacred Heart of Jesus Cemetery following the Funeral Mass.
May He Rest In Peace
Versione italiano