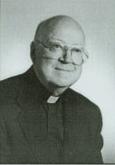 CHARLES F. EGAN
BIRTH
Newton Massachussetts - December 8, 1919
ENTERED:
September 13, 1933.
FIRST PROFESSION:
September 9, 1938
ORDINATION:
June 11, 1946.
DEATH:
February 8, 2003
AGE: 84
After covering several offices in parochial work and in the school, he was sent to Rome as prefect of the professed students from 1952 to 1955. In 1958 he was elected member of the general council and at the end of his mandate, he was elected Provincial superior of the USA province of the Holy Spouses.
He concluded his pastoral ministry in the parishes of Milford and Waltham.
In 1994 he retired in the community of St Joseph, MA, after having served with much appreciation from people, as a member of the tribunal, as a councillor and formator in various enterprises.
The liturgy of his funeral was celebrated on 13 February 2003 in the Sacred Heart Church of Waltham, and his body was buried in the cemetery of Milford. May the Lord grant him that fullness of life that he always longed for.
Italian version