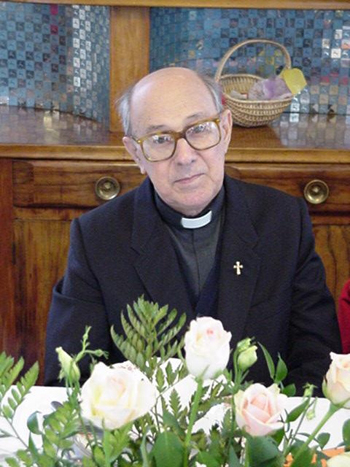 P. NELLO DALLE VEDOVE (Priest)
Born in Verona on April 2, 1917
Temporary Profession Sept 9, 1934
Ordination July 13, 1941
Died in Verona August 14, 2006
Age 89
Dear ones,
Monday evening of August 14, at 6pm, Vigil of the Assumption, Fr Nello Dalle Vedove left us for heaven to celebrate Mary with Bertoni and many of "his" saints.
He had been hospitalized in Borgo Trento on Monday 7, to cure a pneumonia bout. What decided for his death was a kidney failure. Fr P. Mantovani, his own sister Nella and her husband were present. He remained conscious until the end. Let us pray for him and with him.
We shall celebrate his funeral this Saturday August 19, at 10.30am in the church of the Stimate in Verona. He will be buried in the Stigmatine tomb, (near the section of "Beneficis in Patriam" of the Monumental Cemetery).
Fr Nello was born at St Michele Extra (VR) on April 2, 1917. He entered the Stigmatine Congregation in 1928 and made his final profession in 1938. He studied Philosophy and Theology in Rome. He was ordained priest on July 13, 1941 (one month ago he had celebrated his 65th anniversary). He began early to collaborate with Fr G. Stofella in the historical studies for the canonization of our Founder and other Veronese Founders. He worked in formation until 1958. He was chosen to be Postulator general and began to live in Rome in the communities of St Agatha, Blessed Trinity, and Holy Cross at the Flaminio. He was happy to be able to bring to conclusion the causes of beatification (1975) and canonization (1989) of our Founder. He spent the last years at the Stimate in Verona and lastly in San Leonardo.
Notwithstanding his weak health, he worked until the end as postulator. The last work, that was almost completed, was the historic research on Fr Emilio Recchia's cause of beatification.
Fr Nello never lost his polemic vein, his wit, his love for his Verona and sport, but above all for his Congregation and for his and our Founder St Gaspar, whom he honored for the whole of his life with his history research.
Thank you, Fr Nello. You were short in stature, but great in enthusiasm and constancy.
Fr L. Guerra
The provincial secretary,
Italian version