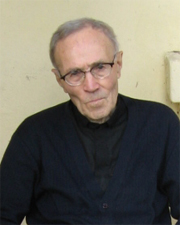 GIUSEPPE CAPPELLINA (sacerdote)
n. Bagnolo VI 16.4.1916
m. Verona 23.9.2008
P. Giuseppe was born on the 16th April 1916 at Bagnolo (Province of Vicenza) from Domenico and Elisa Lodi.
He entered our Congregation in 1927. He always showed an exemplary behaviour, this was the opinion of his parish priest to whom he was very close in friendship. In 1933 he pronounced his first vows, having as a Novice Master Fr. Beniamino Miori. He completed his philosophical and theological studies in Rome, St. Agatha and got a Doctorate in Theology (1935-1941). He was ordained a priest on the 6th June 1940, the day before Italy joined in the Second World War. Fr. Tolameotti, Dominici, Pesamosca, B. Miori, and Balestrazzi contributed greatly to his formation.
The painful events of the War affected our students, while he was a teacher at Sezano (1942-1944), then at Boscochiesanuova (1944-1945), and then again teacher and superior at Cadellara (1945-1947) and Sezano (1947-1952) .
Beyond the very heavy commitments for the reconstruction of the house of the Stimmate and then of S. Leonardo, he was asked by the Vicar General of the Diocese of Verona, Mons. Albrigi, to become Formator of the Diocesan Congregation of Fr. Mazza (1952-1955).
For eighteen years he worked as a Provincial Councillor (1946-1964) at the Stimate. From 1958 to 1964 he dedicated himself to the construction of the Shrine of Our Lady of Lourdes on Fortress of St. Leonardo. Then he went to Rome, St. Agatha as the Prefect of our students of Theology (1964-1965). The following year he continued in his task residing at St. Leonardo until 1970.
During the extraordinary General Chapter of 1970 he was elected Superior General.
His six years term was full of different initiatives for which he used fruitfully of his natural wisdom at the service of the entire Congregation. He had a broad and realistic vision of our Congregation. Those were also the years of great ferments and crises for many of our Confreres. He pushed forward to a decentralization of our Congregation out of our traditional areas of apostolate: Verona, Boston, Campinas. He found also the time to deepen his knowledge and studies of Canon Law at the Angelicum. He saw with great joy the Beatification of our Founder (1975).
Having concluded his term as Superior General, he was elected Provincial Superior of the Province of the Sacred Heart (1976-1982). He supported the opening of a new community in Ferrara, the development of our presence in Southern Italy and the opening of a new mission in Chile.
During 1982 General Chapter at Campinas (Brazil), when it was decided the extending our apostolate to the Philippines, which he firmly supported, he declaired to the Assembly his "Nunc dimittis, Domine, servum tuum in pace". (At last, all powerful Master, you give leave to your servant) But the Lord gave him many other years to lead us with his word and example. He gave immediately his availability to help in the community of Ferrara as a bursar and Novice Master (1982-1984).
In 1984 he was assigned to the beloved community of Sezano which was starting its activity as a centre of spirituality. Fr. Giuseppe remained there until 2007, when, because of an incurable disease, he was assingned to the house of St. Leonardo. Leaving Sezano was for him a deep wound, but he managed to accept also this last cross of suffering and inactivity and he was always happy when he was able to meet the Confreres who were coming to visit him.
On Sunday, the 21st September, while very weak and deep affected by his sickness, he received the Last Sacraments with great devotion and consciousness. The Lord calld him to his Kingdom on Tuesday, the 23rd September in the morning.
The funeral will be held in the Shrine of Our Lady of Lourdes together with Fr. Giuseppe Bonomi who died two weeks ago in Brazil (Ilheus) and will be buried in Verona. We remember Fr. Giuseppe as an exemplary religious, knowledgeable, zealous, committed, attentive to people and solicitous for the well being of our Congregation.
Fr. Giovanni Zampieri
Italiano