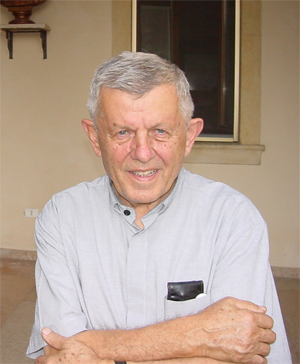 FANGELO DUSI
(sacerdote)
NATO:
a Lonato 1.1.1930
PROFESSIONE TEMPORANEA
9.9.1949
PROFESSIONE PERPETUA:
9.9.1952
ORDINAZIONE:
26.6.1955
MORTO:
3.9.2015 a Verona Borgo Trento
ETÀ: 85 anni
Eulogy of Fr. Angelo Dusi
Angelou Maya
seems to synthesize our deepest sentiments at this moment of loss of Our dear father, confrere, teacher of the Church of God of Pretoria and South Africa when he says:
"A great soul serves everyone all the time. A great soul never dies, rather it brings us together again and again for as we remember him he lives forever in our hearts."
Certainly, this is the true sentiments we have at this moment. It is indeed, a true re-flection of who Fr. Angelo was for us. The Province of the Holy Redeemer has lost a pillar for until his death though physically resident in Italy-Verona, Angelo was a true 15
African. His heart and mind was always in Africa and in the Province of the Most Ho-ly Redeemer. His departure to God the Father is never a moment of sadness and grief for us but a moment of great joy for we know we are connected intimately by heart strings into infinity. The departure of Fr. Angelo to God the Father is an eye opener to us the sons of Bertoni in Africa. We have learnt that death is stingless be-cause of the unforgettable legacy and rich heritage Fr. Angelo Dusi has left for us. The mountains he climbed and the rivers he crossed for the love of the Gospel. The countless pot- holes on the road of Ga-Rankuwa announced the greatness of Fr. Angelo while the dust of Winterveld never settle but loudly proclaim that the true apostle of Jesus was present. The sons of Gaspar in Africa in the Holy Redeemer Province too will carry the legacy and announce to others. For this reason we say, there are no goodbyes for us with you Fr. Angelo for wherever you are you will al-ways be in our hearts. You taught us in the
woods of wildwoods as monks at home that we should be able to proclaim as you did in the meadows of Madidi in the plains of Brits
as apostles outside.
Publicly we want to declare that not a single sign of grief will be on our faces that Fr. Angelo is no more but rather we shall always live in thankfulness that he was indeed a great teacher. His departure to God the Father is not the extinguishing of a light but the putting out of the lamp for the dawn has come as he always taught us that life is given by God as a gift and we multiply it by giving it selflessly as he did in his dedication to catechetical ministry. Indeed, a person's true wealth is the good he does in the world. If we in the Province of Most Holy Redeemer have been pleased with the great life of Angelo we cannot at any single point be displeased with death. Hope is our virtue that one day we shall meet again in the company of angels in heaven. Finally, at the rising of the sun and its setting we shall remember Fr. Angelo. At the blowing of the wind and in the chill of winter we shall never forget him. At the beginning of Jacaranda buds of wildwoods and the rebirth of spring we shall pay attention to his swift steps to and from the printing room that shall ring into our minds for it was within that confinement and walls that he managed to write his name in our hearts. Dear Fr. Angelo we shall pronounce your name when we have difficult pastoral decisions to make for you had sharp and clear cut insights. No one can say enough of this great confrere! Remember us in heaven and re-member the church of Pretoria for as long as the church of Pretoria and South Africa lives you will live. You are part of us in a more intimate way. I conclude by saying: "Like a bird singing in the rain, let grateful memories survive in time of sor-row".(Fr David Kalyosi, The Provincial Superior) 16
Messaggi letti da padre Steven Senaldi durante il funerale del 7.9.2015
To live in the hearts of others is never to die.
Treasured in my heart you'll stay, until we meet again someday.
In the arms of the angel, fly away from here. I know you are in good hands now.
I will always love you and I know you'll always be watching over me there, Rest In Peace Fr. Angelo
Kabelo Masemola
Good morning Fr Steven, for the message on the death of Fr Angelo. I thank the Lord for having exposed me to a Fr like Fr Angelo. I totally believe the he has found rest in the glory of God. Myself and my family will always miss him. He was Father figure to me and I pray that his Soul Rest in Peace.
Pass my condolences to all his family members and tell them, I say " God loves them". Regards
Timothy Molea
Dear Father Steven Senaldi, Thank you so much for the email to let me know about Father Angelo. It is sad news for us to hear of Father Angelo's passing. He will be sorely missed. He was a dear friend, and really had a huge role in my faith. I speak of him often to friends and family. I just chose to step down from my old career to do teaching and I hear his way of speaking in Maria Montessori's translated writings. I put up a photo of him I took in Italy, in my class in the past 2 weeks, referring to the ancient ruins in the background for my students, but a comforting reminder to me of a dear friend. He will be missed and we will pray for his repose to the Lord. Kathleen Voormolen
Sad news , a true soldier of God. May His soul rest in peace. He will be sorely missed
Kind Regards
Olga Maponya
Dear Fr. Steven
Thank you very much for letting us know. He was a blessing in our lives and taught us much love and wisdom. May he rest in peace.
Regards
Laura
CONDOLENCE SPEECH
From the Catechists of the Archdiocese of Pretoria and the whole of South Africa, for the late Fr Angelo Dusi.
We will always remember you, for your teachings about Christ, for your strong Faith in the Lord, Love for the Holy Scriptures, great Love for the sacrifice of the Holy Mass, for your good nature, your great sense of humour, your great concern for the poor and your firm stand on the Catholic Faith.
If you were to go somewhere for pastoral work, you were never afraid to drive alone, you never hesitated, even if it was raining, you would even go for two or three people, because you believed that God was sending you there to proclaim the good News.
You were deeply hurt, when a Priest neglect his Pastoral work. Fr Angelo you were a man of deep prayer, deep reflection, and we promise never to forget you.
We were very fortunate to work with you for most years of your life, and really we are what we are in Faith because of your efforts. We are proud that, as you left this world, you left some fruits of your harvest with us, for the benefit of the Church as a whole. We promise to be faithful to the concrete foundation you laid for the Catechists.
We are proud of the teachings you shared with us and promise to spread the Good News about Jesus Christ, you shared with us throughout the world.
We feel that this world would be a better place to live in, if we had more Priests like you.
Lastly Ottorino, Franca, and other nephews and nieces, grand nephews and nieces of Fr Angelo, we send you our deepest sympathy.
Our thoughts and prayers are with you and your family, and may your departed Soul Rest in Peace.
From all the Catechists of the Archdiocese of Pretoria, and South as a whole.
God Bless You.
OUR PRAYER FOR THE LATE Fr Angelo Dusi.
Lord heavenly Father, You raised your servant Fr Angelo Dusi, to the sacred Priesthood of your Son Jesus Christ, according to the order of Melchisedech, giving him the power to offer the eternal sacrifice.
To bring the body and blood of our Lord Jesus Christ to the Alter, and to absolve our sins in your own Holy name. To bring the Good News to the poor and make them encounter Christ in their lives.
We ask you deep from our hearts, as catechists of the Archdiocese of Pretoria and the whole of South Africa oh Lord, to reward his faithfulness and to forget all his faults, and may you please admit him speedily into your Holy Presence, to enjoy forever the eternal life, as promised by your Son Jesus Christ, for all who truly believed in him during the days of their life.
We make our prayer through Christ our Lord. Amen.
Versione italiana