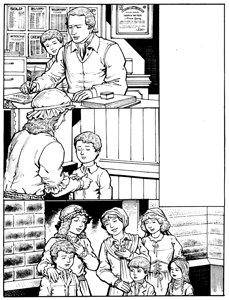 Fin da bambino fu modello di obbedienza. (Videolibro di Luigi Malamocco)
La Provvidenza divina, contro la violenta tentazione de? preti cattivi che dicunt bonum malum e viceversa fornisce il suo eletto d?una forte armatura, nella autorità infallibile delle Scritture. (Ms Bg 5237 )
1834: [Feast of St. Thomas] ? it was First Friday of the month, and the Feast of the Five Wounds this year. The bells of the Stimmate rang out in tono minore, as was the custom for the Sunday?s of Lent. The bells were rung on this Friday, as it was a special Feast at the Stimmate.

1835: At 6:00 p.m., the bells of the Stimmate tolled for one half hour in honor of the deceased Emperor, Francis.

1873: Frs. Lenotti and Vincent Vignola were expected at Prague at 9:00p.m. Fr. Bragato, now nearly 83, needed assistance when he walked. During the stay of the Fathers at the Imperial Court, they meet a Fr. Negrelli, the Court Librarian. The trip from Sale di Povo through Bolzano, took 27 hours.

1876: The Students at St. Teresa?s celebrated the Feast of St. Thomas in a special way this year ? guests were invited to attend the Accademia they put on.

1878: At the Accademia held at the Stimmate this year, there was frequent tribute paid to Pius IX, who had always been most gracious toward the Congregation during his life-time.

1880: This year, the Students celebrated the Feast of St. Thomas solemnly, preceded by a Triduum in the light of Pope Leo XIII?s recent Encyclical Letter, Aeterni Patris, that so strongly recommended the doctrine of St. Thomas. The Triduum was preached by the Students.

1883: As classes were being taught during this time from the elementary grades, all the way up to the 4th year of Theology, and a number of Congregations of Verona were sending their Students to the Stimmate for instruction, the Feast of St. Thomas had special significance this year. In the evening, Cardinal di Canossa, his Vicar, Monsignor [also a future Cardinal] Bacilieri, and other notables attended the Accademia which this year was a disputation among several of the Students. A Maestro Ravignani prepared special music for the event.

1887: On this date, Fr. Richard Tabarelli presented a philosophical dissertation before the Academy of St. Thomas in Parma.

1888: Bro. Louis Ferrari, long-time confidant of the deceased Superior General, Fr. Marani [he had accompanied the Superior General to see Pius IX in 1854, seeking the Decree of Praise which was then granted], died at the Stimmate at the age of 76. On this same day, Fr. Peter Vignola, informed the Abbot of Bassano, who was most displeased with the Congregation, that at the close of that school year, the Congregation would leave Bassano ? thus closing its 12 years of service there.

1893: A special Accademia was held this year on the Feast of St. Thomas, to honor the Priestly Jubilee of Pope Leo XIII.

1902: The Superintendent of Schools in Parma gave notice this day that the Congregation would have to close its School in Parma in view of the ?Casati Law?, forbidding those born in Trent to teach in Italian schools.