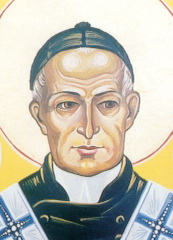 Icona di Don Gaspare. - Particolare (Bruno Facciotti)
Così opera Dio co' suoi più cari, lasciandoli soli... affinché l'uomo col divino aiuto che mai non manca, facendo uso di tutte le sue forze, facilmente le squadri. (Ms Bg 5198/99 )
1842: Dr. Manzoni paid his last visit to the dying student, Louis Ferrari. Since December of 1840, he had made 1125 visits in a vain effort to save his life. During this day, Fr. Bertoni visited the dying boy for a little while.

1860: A Fr. Cajetan Modena, a Camillian, who had assisted in the Confessions at the Retreat for the Seminarians preached in Padua by Frs. Lenotti and Peter Vignola, wrote this day to Fr. Marani. He said that the older Professors at the Seminary had told him that it was the best Retreat they had had there since one that the Jesuits had preached there 20 years earlier.

1862: Ash Wednesday ? Frs. Benciolini and Lenotti returned to Galliera [Veneta] to establish a Pious Union to combat Blasphemy to leave a visible memorial to the Mission they had preached there the previous December. Fr. Marani also went along to hear Confessions.

1870: Fr. Lenotti left Villazzano for Verona ? he intended to bring the ailing Fr. Marani, Superior General, back with him, as the Superior always found happiness being among the young Students who represented for him the hopes of the future.

1873: Fr. Lenotti was at the Student House, now at Sale di Povo, preparing for his departure the next day to visit Fr. Bragato at Prague. The long Court case seemed to be settled, and it would only be a matter of time as to when the property would be returned to them.