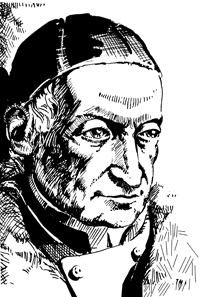 San Gaspare in un incontro-intervista con lo Stimmatino Bruno Facciotti.
Star saldi a operare con lo studio di piacer a Dio, anche non piacendo a noi le nostre operazioni, orazioni ecc. senza farsi scorgere col grugno. (Ms Bg 5196)
1813: Mother Naudet asked Fr. Bertoni's advice concerning a good book for her Retreat. Fr. Bertoni suggested the Spiritual Exercises of St. Ignatius of Loyola - he also suggested to her to keep a Spiritual Diary.

1829: Fr. Bertoni celebrated his first Mass in a month, as he had been ill again.

1855: Fr. John Perrone, SJ, Consultor to the Sacred Congregation of Bishops and Regulars gave his official view of Fr. Bertoni's Original Constitutions and his Congregation. As to the Constitutions, he noted that they had indeed been written in a spirit of prayer, but did need emendation as to their juridical section - the Congregation, although small, should be granted the Decree of Praise that would serve as an encouragement to the members.

1858: Frs. Lenotti and Vignola preached a Mission at Ara Coeli in Vicenza - Fr. Marani helped at some of the services. The Fathers visited the Shrine at Monte Berico.

1860: The Bishop of Padua, Bishop Manfredini, wrote to Fr. Marani, Superior General, to than him for the fine Retreat just preached to the Seminarians there. The Rector of the Seminary, Fr. Lawrence Sartori, wrote in a similar vein. This Retreat had been preached by Frs. Lenotti and Peter Vignola.