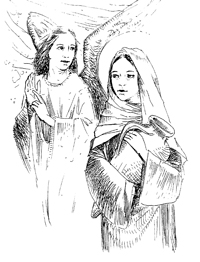 Annunciazione. Santino di Bruno Facciotti per la professione religiosa di una suora della Naudet nata a Bellizzi - Salerno.
Quelli che chiama Dio... li dispone a cose grandi di sua gloria. Perciò coll?infusione abbondante di grazia abbatte in essi prima di tutto l?uomo vecchio, ed eccita ed edifica un uomo novello. (Ms Bg 5486).
1790: Cajetan Brugnoli, son of Charles, was born.

1817: Fr. Louis Della Rizza had been living in the house of the Stimmate when Fr. Bertoni took possession of it the previous November. He finally left this day, after the winter.

1851: Feast of the Annunciation - Fr. Marani gave First Communion to two young sisters, by the name of Haller, at the 7:00 a.m. Mass. At 8:30, there was a Mass and the young girls sang during it. They were being trained by the Sisters of the Holy Family.

1855: Passion Sunday ? Fr. Marani and Bro. Zanoli went to Treviso for a Mission. Fr. Marani, Superior General, frequently took Brothers with him on his trips.

1860: Passion Sunday ? Frs. Benciolini, Lenotti, and Vincent Vignola finished the strenuous Mission at Noventa di Piave.

1865: Richard Tabarelli and James Zadra [a Brother candidate] became Novices.

1906: Arch-Bishop Louis Morando, the first member of the Congregation elevated to the Episcopacy, entered his See of Brindisi.