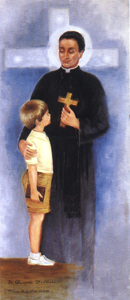 San Gaspare e un fanciullo. Cappella invernale della Santissima Trinità.
L?eletto, reso, per illustre e raro dono, umile e non solo in mezzo alle virtù, ma in mezzo alla gloria istessa delle virtù, riceve un doppio testimonio da Dio e dagli uomini, della sua disposizione alla ecclesiastica vocazione. (Ms Bg 5304 )
1809: Donna dei Conti Martelli was born. She became the 2nd Successor to Mother Naudet in 1840.

1821: The birthday of one F. G. Clementi, who would one day enter our Congregation ? he left, though, after only two months, September 1, 1846.

1834: A serious accident was narrowly avoided at the Stimmate under construction, when a staging collapsed. [It might be noted that CS I, p. 268, gives 1834 as the date ? whereas the same volume, p. 504, gives 1835].

1842: Sitientes Saturday ? John Lenotti was ordained a Priest by Bishop Mutti in his Residence Chapel.

1864: Francis Sogaro was ordained a Priest ? he was a product of the School at the Stimmate, and the House Chronicle noted that his ordination made up somewhat for the death of Fr. Venturini a few weeks before. [He would one day be an Arch-Bishop, after leaving the Congregation, and died as President of the Noble Ecclesiastics in Rome ? he was ordained a Bishop in St. Agatha of the Goths Church, Rome.

1873: Fr. Lenotti and Fr. Vincent Vignola knelt for Fr. Bragato?s blessing as they concluded their five days in Prague. He had seen the Empress Marianna, and thanked her for her charity in financing the House at Villazzano during the hard years of the Students? exile. Fr. Lenotti had always admired Fr. Bragato who had been his first Confessor when he entered the Congregation.

1892: Cesare Benaglia was ordained a Priest this day.