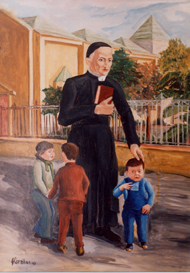 San Gaspare e i bambini. (Coralluzzo - Bellizzi Salerno)
Quel giovanetto che illuminato dalla visita del suo Signore adora le ammirabili vie della Provvidenza, non le discute, loda Iddio in suo cuore, tace per riverenza colla sua lingua, per timore di bestemmiare quello che non intende, ha prova di vocazione ecclesiastica. (Ms Bg 5149 )
1813: Fr. Bertoni wrote in some haste to Mother Naudet as he feared some misunderstanding with Mother di Canossa. He advised Mother Naudet to get Fr. Galvani's advice as well.

1815: Napoleon arrived at the Riviera with only 1,000 men and forbade that any French blood be shed.

1831: Fr. Bertoni, legal owner of St. Teresa's, gave Mother Naudet permission to make some renovations at the Convent.

1836: The House of the Derelitti, next to Santa Maria del Giglio, was made a filial House of the Stimmate. Fr. Marani came to the Stimmate five days a week for school and he gave theological conferences at the Derelitti for 10, or 12 Priests, as Fr. Bertoni used to do years before at Sts. Firmus.

1842: A young student, Louis Ferrari, lay seriously ill across the hall from Fr. Biadego. The doctor visited Fr. Gramego, too, who had suffered for a long time with a painful mouth infection.

1855: About this time, Frs. Marani and Lenotti gave a Mission at Badia Polesine, in the Diocese of Rovigo.

1865: The Fathers returned from a very short Mission at Gavello. Frs. Benciolini and Bassi preached a Mission in Bottrighe, Diocese of Adria.